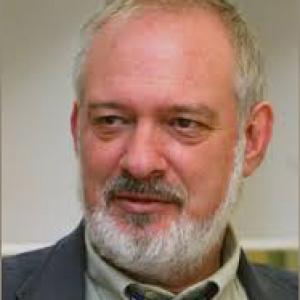 Has read Law and Economics in Athens and in Strasbourg, having specialized in European Law and Medieval History. He has dealt professionally with business law and European Law matters.
Has been an advisor on European Affairs at the Ministries of National Economy, Foreign Affairs and Culture and an advisor on European affairs for the Athens Daily Newspaper Publishers Association. He is a member of the Editorial Committee of "European Politeia".
Co-writer of the "Interpretation of the EEC Treaty"; has also written in legal journals. A member of the Board of Directors of the Hellenic Center of European Studies (presently a branch of EPLO).
Α journalist at "TO VIMA" and "OIKONOMIKOS TACHYDROMOS". Publisher of the short-lived weekly "SAMIZNTAT", contributor to Sunday "ELEFTHEROTYPIA" and "IMERISIA", managing director of "ELEFTHEROS TYPOS". He has been a communication consultant at the Bank of Greece (1999). Co-owner of METAMESONYKTIES EKDOSEIS. Today, a columnist at "Naftemporiki", and General Manager of the ECONOMIA GROUP ("OIKONOMIKI EPITHEORISI"/Business File/economia.gr), where he writes a daily blog.
A panelist at Evening Report of Action 24 Channel.